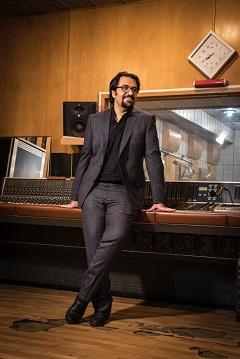 About Me
I am Mehdi Zare. I was born on 20.05.1980 in Iran and grew up into an artistic family and interested in art, I graduated from the Fine Arts Campus of the University of Tehran in the field of playing Iranian music. I spent my childhood and youth in the art-loving city of Shiraz. I started working in the field of puppetry and children's storytelling as a child (5 years old), and over time, the art of music was added to it. I always feel like a child, and for me, composing for children is a special priority, because educating children is the future education of a society. Wherever I am in the world, I want to contribute to the growth and development of children's hearing.
I composed the first children's music album based on classical Iranian melodies with children's voices in the collection of albums called "There were five fingers that ..." from the poems of Master Mostafa Rahmandoost in Iran in 2013. I have already composed 8 albums for children and I am currently producing two new series.
In composing for adults, my main interest is composing music for the soundtrack; Whether it's a theater, a TV series or a movie, or an audiobook, I'm romantically immersed in the text, and that text and music pervade all the depths of my being, and I always try to present the introverted music, the music that comes from the heart of that image.
In addition to making music for movies, series, and audiobooks, I have been composing and arranging single Tracks and music albums with various singers for many years, both in pop and classical Iranian music style, with reference to the opinion of other colleagues who specialize in this field. My created music often has a visual color and smell, and the melodies portray the listener; In my opinion, my background in composing theater and film music has helped to compose my songs in the mental narration of the listener.
I founded the "Solouk" music group in Shiraz and was in charge of it from 04.1999 until today and during these years, we have been performing concerts and performing music in different countries and festivals.
I am the founder and leader of the children's music group "Ding Va Dang" and with this group - We have produced several concerts in special halls for children from 2016 until today.
One of my concerns in life is the connection between Iranian art with music and the world of art.
The unknown capacities of Iranian art and music are many, and by combining it with the world of music, these capacities become apparent. This appearance, if properly developed, creates a new and diverse color in the world of music as well as Iranian music.